Code of Conduct: our foundation for success
To my teammates:
Every day, we strive to make financial lives better. As we help people, businesses and institutions achieve their financial goals, it is important that we always act responsibly – with honesty, integrity and fairness.
Based on our company's values, the Code of Conduct is our guide to putting those values into action. We are each required annually to review, acknowledge and understand our Code of Conduct.
Thank you for upholding our ethical standards and commitment to our values in all you do every day for our customers, clients, teammates and communities.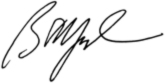 Brian T. Moynihan
Chief Executive Officer
Bank of America
2017 Code of Conduct Disclosure
Bank of America periodically updates the Bank of America Code of Conduct (the "Code"), including the Code applicable to our principal executive officer, principal financial officer and principal accounting officer under SEC rules.

On March 28, 2016, the Code was updated to incorporate several changes, including updates to expand information on employee rights, additional considerations involving communications with regulators, and protections for whistle blowing activities. The Code provision pertaining to discrimination and harassment was expanded, and awareness of workplace violence was added. The Code was further updated to include restrictions involving gifts among employees, guidance on use of electronic communications and social media, as well as a new message from our CEO.

On February 6, 2017, several changes were made to the Code, including the treatment of supervisory information received from regulators and accessing employee information, highlighting the requirement to protect the confidentiality and security of the information. The Code provisions pertaining to diversity & inclusion were expanded. The Code was also updated to include further guidance on personal relationships among employees, and employees' activities outside of work.