Code of Conduct: our foundation for success
To my teammates:
Every day, we work hard to drive responsible growth, helping our customers and clients live their financial lives by connecting them to all our capabilities. Core to our approach to responsible growth is doing it the right way – focused on the client and managing risk well. That means operating with integrity.
Based on our company's values, the Code of Conduct is our guide to putting those values into action. We are each required annually to review, acknowledge and understand our Code of Conduct. Thank you for upholding our ethical standards and commitment to our values in all you do every day for our customers, clients, teammates and communities.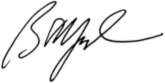 Brian T. Moynihan
Chief Executive Officer
Bank of America
Code of Conduct Disclosure
Bank of America Corporation periodically updates the Bank of America Code of Conduct (the "Code") applicable to all employees, including our principal executive officer, principal financial officer and principal accounting officer under SEC rules.
On December 9, 2020, updates were made to the Code, including clarifying language regarding (i) reporting certain conduct violations to the European Central Bank, (ii) media inquiries about non-company issues, (iii) restrictions on trading in the Corporation's securities and (iv) the Corporation's environmental, social and governance focus and human rights.
The above summary of updates to the Code is qualified in its entirety by reference to the full text of the Code.
Market Data copyright © 2021 QuoteMedia. Data delayed 15 minutes unless otherwise indicated (view delay times for all exchanges). RT=Real-Time, EOD=End of Day, PD=Previous Day. Market Data powered by QuoteMedia. Terms of Use.