Code of Conduct: Core to how we drive Responsible Growth
To my teammates:
Every day, we work hard to drive Responsible Growth — this means growing and winning in the marketplace, focusing on the client in everything we do, managing risk well and making sure our growth is sustainable.
Our Code of Conduct guides us in how we do these things, living our values and delivering on our purpose to help make financial lives better.
To keep all of this top of mind, we are each required annually to review, acknowledge and understand our Code of Conduct. Thank you for doing so, and for upholding our ethical standards and commitment to our values in all you do every day for our clients, teammates and communities.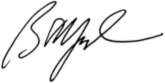 Brian T. Moynihan
Chief Executive Officer
Bank of America
Code of Conduct Disclosure
Bank of America Corporation (the "Corporation") periodically updates the Bank of America Code of Conduct (the "Code") applicable to all employees, including our principal executive officer, principal financial officer and principal accounting officer under U.S. Securities and Exchange Commission rules.
On October 19, 2022, changes were made to the Code, including updates regarding (i) resources for non-U.S. employees for reporting conduct complaints and possible violations of the Code, (ii) information on the Corporation's risk framework components, (iii) approvals of outside business activities (iv) the use of personal devices for business related communications, (v) customer information, (vi) submission and approval of business expenses, (vii) the Corporation's diversity and inclusion and (viii) illustrative questions and answers. Additionally, the Code was updated to better align with the Corporation's enterprise messaging and for other non-substantive updates.*
On November 30, 2021, updates were made to the Code, including clarifying language regarding (i) additional policies for guidance on local whistleblowing requirements, (ii) the use of the Corporation's resources and computer storage for outside business activities, (iii) the engagement of third parties across the Corporation's processes, operations and products and the role of Global Procurement, (iv) hiring practices for family members and (v) community engagement in environmental, social and governance initiatives. Additionally, the Code was updated to better align with the Corporation's enterprise messaging and to address certain non-substantive updates.
The above summaries of updates to the Code are qualified in their entirety by reference to the full text of the Code.
*October 19, 2022 updates are reflected in the English version below. Updates to the translations are forthcoming.
Market Data copyright © 2023 QuoteMedia. Data delayed 15 minutes unless otherwise indicated (view delay times for all exchanges). RT=Real-Time, EOD=End of Day, PD=Previous Day. Market Data powered by QuoteMedia. Terms of Use.